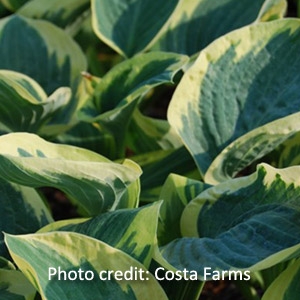 Hosta Varieties
Manufacturer: Costa Farms
Hostas are addictive! That's what you'll discover after you plant a few in your garden. These super-easy perennials are so collectible because they come in a seemingly unlimited selection of colors, heights, and textures. From 4-inch dwarfs to 6-foot-wide giants, there's a hosta variety to fit any situation from large borders to tiny rock gardens.
Please contact us for current pricing and availability.
They look terrific in containers, too! This amazing plant also comes in different shades of green, blue, chartreuse, and bi-color. Even the plants' leaf shape and texture vary depending on variety. And let's not forget the hosta flowers. Every hosta variety develops lovely spikes of often fragrant pink, lavender, or white flowers during the summer. Hummingbirds love the flowers as much as people do. You can also use hosta leaves and flowers in fresh cut arrangements.